---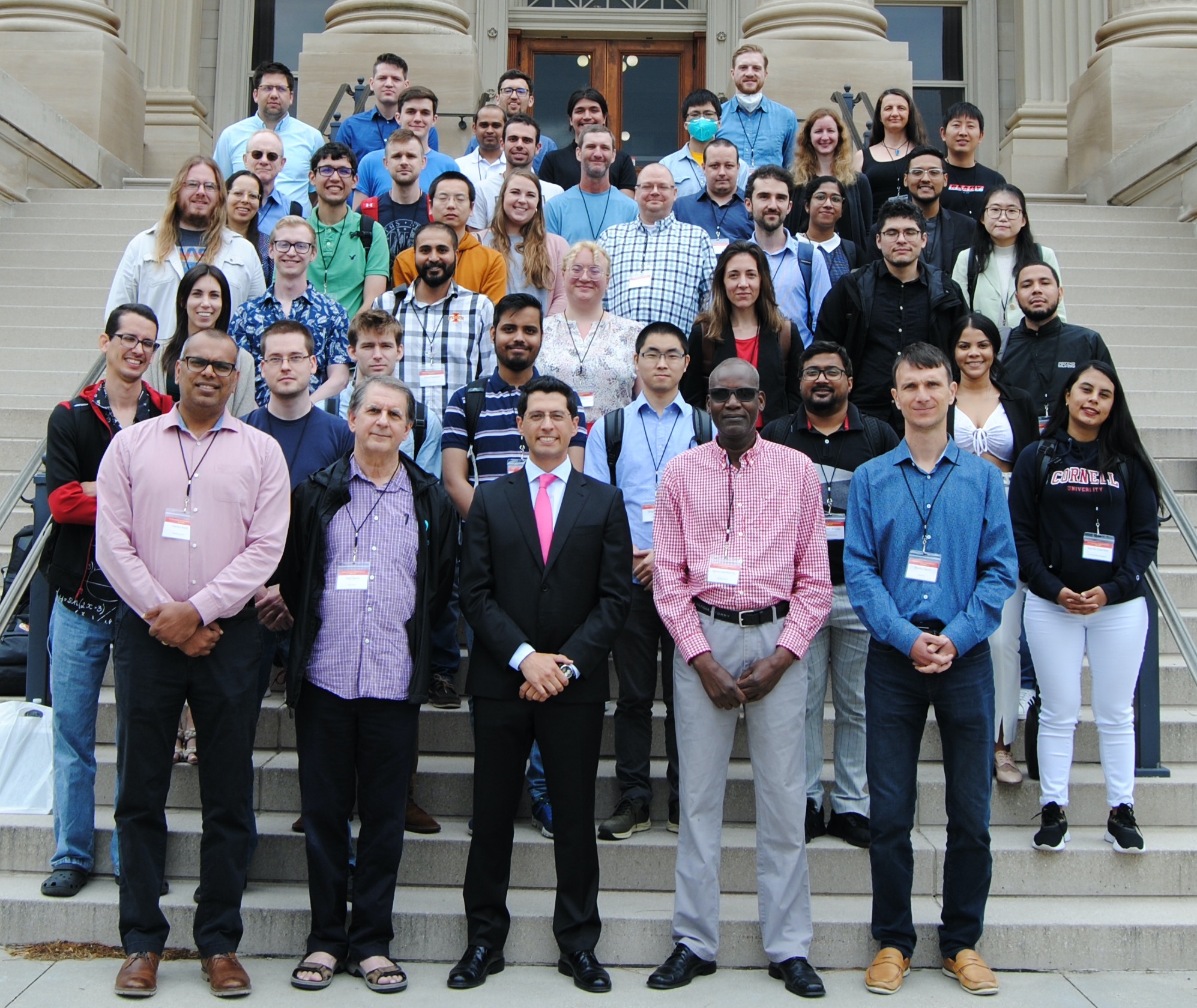 The topics for this second edition of NSFE are analysis, numerics, and applications of fractional and nonlocal equations.
(see the first edition: NSFE 2017).
Graduate students, postdocs, and early career researchers are especially encouraged to attend.
Here are the poster, the school booklet and photos.

Mini-courses keynote lecturers:





Distinguished invited speakers:


Summary of panel discussion


---
The school will be held in-person at the Student Innovation Center (SICTR building), Room 2221 (second floor) at Iowa State University campus in Ames,

starting on Thursday, June 9 at 8am, and
ending on Saturday, June 11 at noon.

How to get to SICTR:

Thursday and Friday parking is available to the north of SICTR on Lot 21, next to Armory, at an hourly rate of $1.25. Most parking lots on campus are free on Saturday.
Thursday and Friday bus from Gateway Hotel: use CyRide #6 Brown Route.
Thursday and Friday buses from Sleep Inn and Suites Hotel: use CyRide #11 Cherry Route, or CyRide #1 Red. On Saturday, use CyRide #1.
---
Registration and funding:

(CLOSED) There is no registration fee. However, registration is required to attend. Please complete this form. Deadline for registration: May 1, 2022.


(CLOSED) Graduate students support (US based only): If you are a graduate student and would like to apply for partial support for travel expenses (US based students only), please indicate that in the registration form by including your PhD advisor's name, institution and email address. Please ask your advisor to send a short letter of recommendation via email to nsfe@iastate.edu Deadline to apply for graduate student funding, including advisor's letter of recommendation: March 4, 2022.
---
Lodging: Special rate hotels
The following hotels in Ames have agreed to reserve a block of rooms at special rates for participants of NSFE 2022.

---
Directions:
Ames is located in the center of the State of Iowa, about 40 miles north of Des Moines, the state capital, at the intersection of Interstate 35 and Highway US-30.


Ames has a public bus service to campus called CyRide.
The two suggested hotels are in bus routes that take you directly to campus.


If you plan to fly, the nearest airport is Des Moines International Airport (DSM).
See the airport website for transportation services from DSM to Ames.


---
Contact:

---
Organizers: